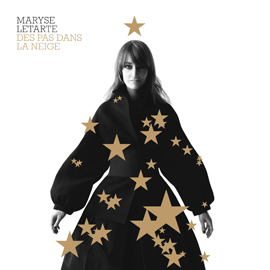 From our neighbors to the north. Worth checking out, even if you have conventional tastes. Think Feist, only (IMO) better.
1 Ô traîneau dans le ciel
2 Anges de neige
3 Entre Noël et le Jour de l'An
4 Boom Boom
5 L'année qui s'achève
6 Le mendiant de Noël
7 Gloria
8 L'automobiliste et le blizzard
9 L'année qui s'achève (Épilogue)
10 Songe de décembre
I don't know anything about Maryse Letarte, but as soon as I clicked onto her web site, I was greeted with the irresistible sounds of "Boom Boom" and I was hooked. Light, poppy, jingly, fresh, Indie–I can't quite find the right words. Maryse moved freely between French and English on "Boom Boom" as she plucked the strings of my Christmas music loving heart. The rest of the songs, I thought, were just as hypnotic and memorable. Anyway, that was my initial impression. Your mileage may vary. Listen to her new Christmas album at Last FM or My Space or Maryse Letarte's web site.
You can find this on iTunes.